WHY RECRUITING WITH LUXURY HOSPITALITY CAREER?
Since 2004, the most prestigious hotels are trusting us.

Join a upscale hotel gallery and post your jobs on our job board.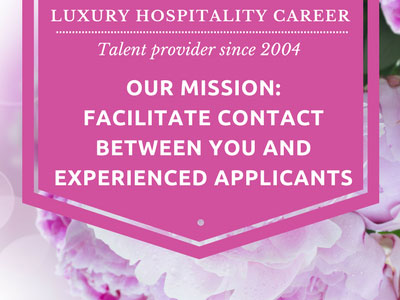 OUR MAIN MISSION

Our main mission is to facilitate contact between you, upscale spas, luxury hotels and gourmet restaurants recruiters, and experienced applicants.



Our aim is to provide talent profiles to hotels, restaurants and spas and to propose our applicants jobs in adequation with their career path.



OUR APPLICANTS

Our applicants are not here by accident...
- They are motivated
- They wish to engage in a career of excellence
- they wish to work in a demanding environment of service

We have all the profiles you need in a luxury hotel or a gourmet restaurant: general manager, F&B manager, hotel manager, sommelier, housekeeping, events, sales, head waiter...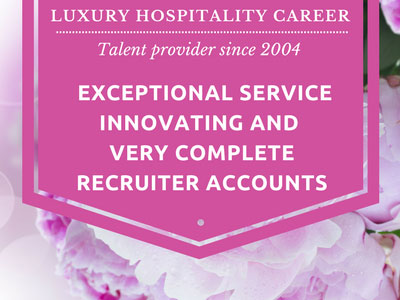 A COMPLETE RANGE OF SERVICES FROM JOB POSTING TO APPLICANTS SELECTION

Providing a high-quality of services is for us just as important as for you regarding your guests. We demand the same level of quality as yours.

Our Recruiter Accounts are innovating and very complete for job and application files management.

We support recruiters in their profiles search and make available various tools and services.




Besides job posting and resumes reading, here is a list of our tailor-made recruitment support tools and services for our clients, deluxe and upscale hotels and gourmet restaurants worldwide.

All these tools and services are included in our two recuitment solutions:

Dialog box to chat with users, applicants or recruiters, from Monday to Friday. Our yellow dialog box entitled "Question?" is situated at the bottom right of your screen on every pages. We support users while navigating our website and we answer questions immediately.


Personalised responses to numerous applicants requests by email in order to accompany them in their job search and to advise them


Resumes checking on demand (filters added by recruiters like skills or language level)


Jobs checking (typographical error in the title, missing information...)


Jobs included in our newsletter within 24 hours


Jobs posted on our social networks Facebook, Twitter, and Google+ and also Linkedin for management or executive positions


Jobs sent to applicants of our database which position seaking matches job title, within 24 hours


Jobs sent to our 247 partners: hospitality schools, alumni networks, trade associations which share them with their students or members.


Transparency of recruitment process whith information given to applicant on the job: You may tell them the details regarding the recruitment process in your own company, how long may you give an answer and any information answering this question: "I just send my application file, what will happen next?"


Close relationships with applicants with the Questions Answers: Applicants may ask questions directly on your job. You answer by email and can choose to also post your answer on your job, so you gain time for the most frequent questions.


Complete the application file: with all the documents you may ask: CV, diploma certificates, letters of recommandation...


Possibility to send a message to a selection of applicants or to send a job description


Possibility to share a profile you notice in our database to a colleague


Save a resume in a profiles notebook. Unlimited amount of notebooks (room, pastry, housekeeping etc.)


Possibility to exclude a profile in the excluded profiles notebook


Gourmet restaurant Recruiter Account for free for any hotel in order to promote the restaurant jobs with a presentation of the Chef, the restaurant etc.


Internal web development at your disposal for any new features, tools or services. Generally, request is fulfilled in less than one hour.
EMPLOYMENT BRAND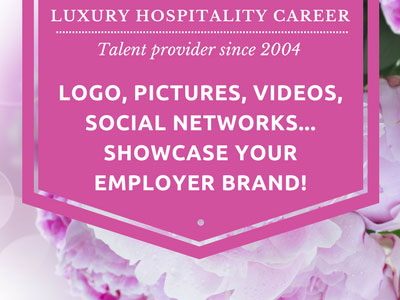 Don't forget to promote your employment brand with our tools included in our two recruitment solutions :

Choice between two layouts for your ad


setup the titles color of your ad (you can choose your graphics standards color)


Detailed overview of your company, standards and values, commitments and assets for high-quality applicants


Logo of your hotel or restaurant and group if appropriate


Cover picture: a cover picture on the top of your jobs, your presentation page and your recruiting days


Pictures: because a luxury hotel is a place where beauty, design and general aspect play an important role for your employees, we suggest to add pictures on your jobs. Applicants will then see in which environment they will work


Video and latest posts of your social networks to boost your job look and reinforce your brand image


Free announcement of your recruiting days on our website and newsletter and sending the information to our applicants
On demand, not included in your formula:
Implementation of your graphics standards on all your jobs starting at 950 euros (charged only once at each implementation of a new graphics standards)


Implementation of your graphics standards on all your recruiting days starting at 750 euros (charged only once at each implementation of a new graphics standards)
Both graphics standards starting at 1,500 euros


SOCIAL NETWORKS
We have a strong presence on social networks, an asset to promote your brand image or your recruitment.

Here are our figures for LinkedIn, Facebook and Twitter. We are also on Google+.


14,805 members




3,912 fans

576 followers
Hotels chains: contact us to know more about our special rates (from two companies)

Why just one job per offer?
To ensure that each offer reach the right applicants, one offer should highlight only one job so each offer has the best circulation online and among our networks.
We do not publish offers with more than one job or trade. Our No Limit solution is the best choice to publish as many jobs as you wish.

Why a so small price difference between the job credit solution and the No Limit one?
Thanks to the No Limit solution we offer to our applicants a large choice of jobs because recruiters may publish, for the same price, all profiles that they are looking for. To convince recruiters to use this solution, we choose the rate of 180 euros for one month so that it is less expensive than two job offers.
For the new customers, the No Limit solution allows them to discover all our services and see the results on different job profiles.

*Rates on January, 6th 2017